Skip Navigation
Website Accessibility
Things To Do in Historic Jefferson, Texas

Nestled deep in the Piney Woods East Texas is the quaint town of Jefferson, Texas. Jefferson was once the second largest city in Texas, with the largest inland port for steamboats to bring their goods. Now a town of 2100 residents, it's a tenth of the size it once was in it's heyday.

Jefferson offers a wide variety of things to do during your stay. Whether you are here for pleasure or business, you are likely to find something to meet your needs.

Maps will be available during your stay, but here's a sneak peek at all of the wonderful things to do, eat and see during your stay in Jefferson, Texas. This map is made available due to our wonderful sponsors (in bold with a red star). Please plan to visit some of these establishments during your visit to thank them for their generosity.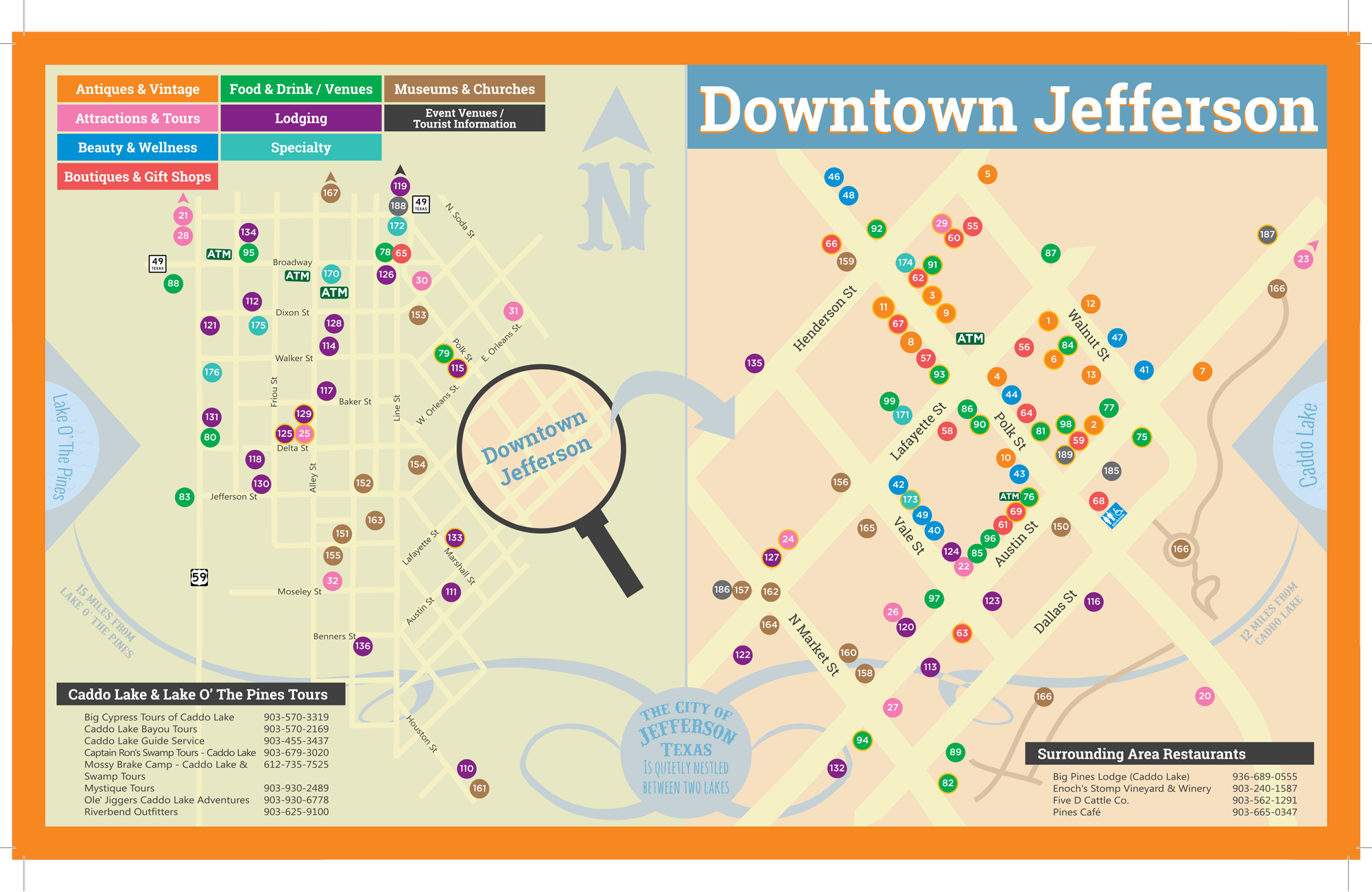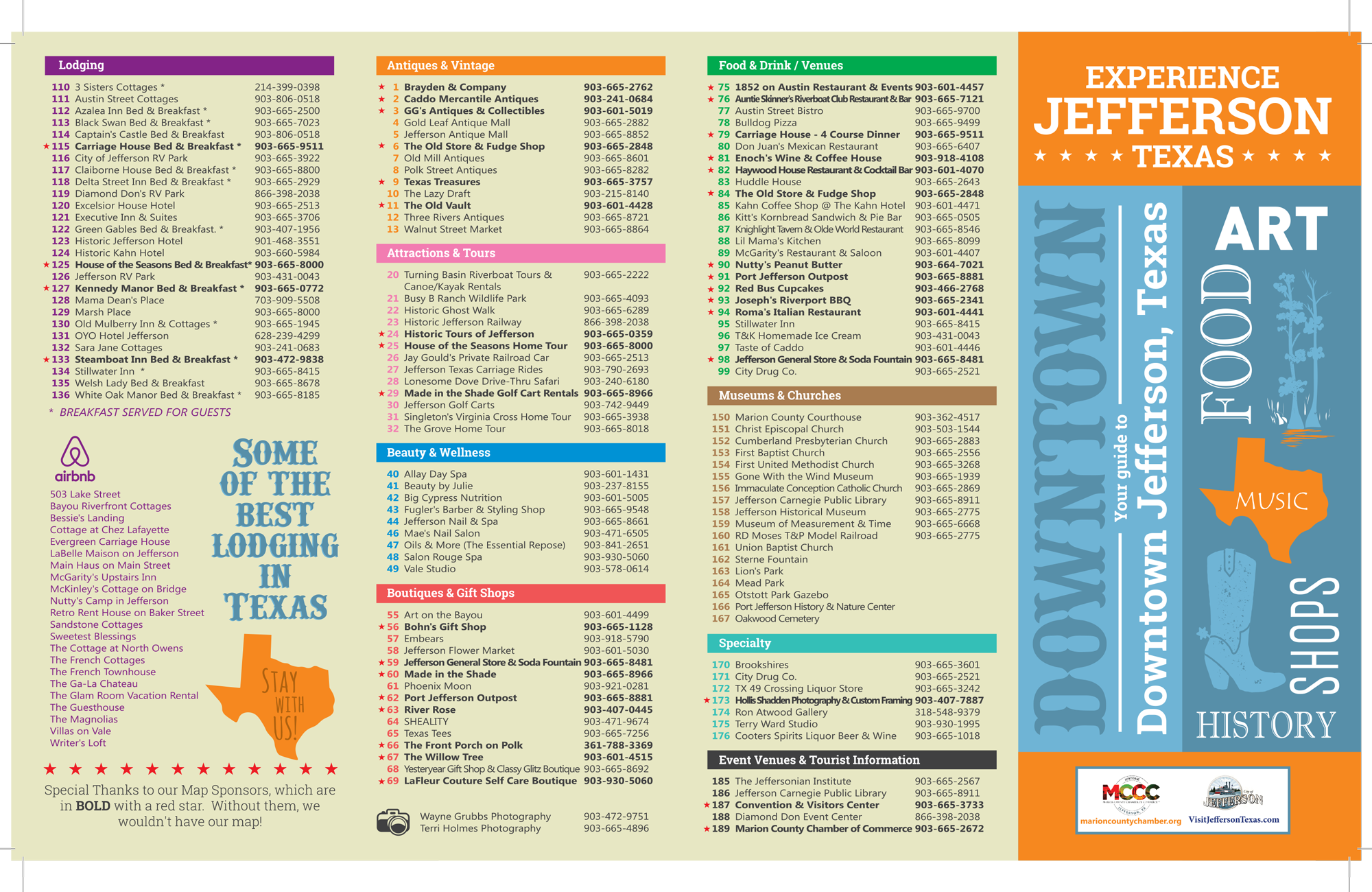 Museums/Historic Homes/Downtown district toursBack to Top
Plan to take some time during your stay to tour a museum or historic home in town. Here are a few to select from:
Historic Tours of Jefferson: A one-hour guided shuttle tour of the downtown historic district, including the old business district, historic homes, and a trip out to Oakwood Cemetery. Go to www.tourjefferson.com to book, or call (903) 665-0359 to reserve, or 'Book Now' via the Facebook page (Historic Tours of Jefferson). **Our guests receive a small discount with a promo code that is included in your confirmation email when you book your stay with us.
Jefferson Historical Society and Museum: Four floors of Marion County and Jefferson history. Call (903) 665-2775.
R.D. Moses Miniature Railway Exhibit: Located next to the Jefferson Historical Museum. Admission is included when you visit the museum.
The Museum of Measurement and Time: The Ingram's personal collection of 500 clocks, different measurement devices, and 1400 Salt & Pepper Shakers for you to enjoy. Pieces date from 1700-1900. Donations accepted.
Jefferson Carnegie Library: An original Carnegie Library built in 1907. Call (903) 665-8911.
Gone with the Wind Museum: A 1,700 square foot museum, dedicated to Gone With the Wind, features one of the world's largest private collections of memorabilia from this epic story of the Old South. Call (903) 665-1939.
Singleton Virginia Cross Home Tour: Historic antebellum home furnished in antiques of the period. Guided tour of home at 1.00 PM on Saturdays. Call (903) 665-3938
Excelsior House: The Excelsior House is the second oldest continuously running hotel in the state of Texas. The Excelsior House is open for tours weekdays at 2 pm and at 1 pm and 2 pm on weekends. Call (903) 665-2513.
Jay Gould's Rail Car Atalanta: The "Atalanta" has a luxurious interior with four staterooms, lounge, dining room, kitchen, butler's pantry and bathroom. Open daily 10 a.m.–3 p.m.
The Grove Home Tour: A one hour guided tour of one of the most haunted homes in Jefferson. Tour times: Saturday @ 2:00 pm and Sunday @ 11:00 am. Call (903) 665-8018 to book. Reservations required.
Turning Basin Riverboat Tours: A one-hour narrated tours of the Big Cypress Bayou. Call (903) 665-2222 to reserve. www.jeffersonbayoutours.com
Made in the Shade Kayak & Canoe Rental: Paddle through the Big Cypress Bayou by kayak or canoe. Free shuttle from any Bed & Breakfast or Historic Hotels in Jefferson. Drop off and pick up at the boat ramp. 2 hours, 4 hours or all day rentals are available. Call (903) 665-8966 to reserve.
The "Original" Historic Jefferson Texas Ghost Tour: A 2-hour narrated walk through historic Jefferson with haunted and historic stories. Call (903) 665-6289 for information. Can book online at www.jeffersonghostwalk.com.
Gone With the Wind Museum: An extensive collection of movie memorabilia. Call (903) 665-1939 to book your tour.
Made in the Shade: Golf Cart Rentals. Call (903) 665-8966 to reserve.
Jefferson Golf Carts: Golf Cart Rentals. Call (903) 665-9900 to reserve your golf cart for the day or weekend.
Howe Truss Train Trestle: Built in 1897, it is the only remaining Train Trestle of it's kind in the world. It is lit up each evening from Dusk to Dawn for viewing.
Lonesome Dove Exotic Drive-Through Safari: Call (903) 240-6180 for information.
Lonesome Dove Trail of Lights: December 1-31, 5:30 pm - 9:00 pm. Call (903) 240-6180 for information.
Busy B Ranch Wildlife Park: Call (903) 665-4093 for information.
Jefferson Texas Horse & Carriage Rides: Call (903) 790-2693 to reserve.
Historic Jefferson Railway: Call (866) 398-2038 for schedule and pricing.
A short walk into the historic downtown area will offer many shops to browse through and find that sought after item for your collection.
Bohn's Gift Shop/Blackburn's Factory Outlet: Factory Outlet Store for Blackburn's jellies, preserves and syrups, gift baskets, custom framing, local cookbooks, knives, pottery and gift items. UPS Shipping Outlet. Call (903) 665-1128.
Brayden & Co. Antique Mall: Elegant and upscale antique furnishings and homewares. Call (903) 665-2762
Caddo Mercantile Antiques: Antique furnishings and collectibles. (903) 241-0684
SHEALITY: Women & Children's Clothing Boutique
Embears: Eclectic collectibles, custom shirts, jewelry
Estate Sales: Antiques and collectibles.
GG's Antique Mall: Antiques and collectibles.
Gold Leaf Antiques: Two extensive floors of collectible glassware, furniture, books and CASE® Knives. Call (903) 665-2882.
Jefferson Antique Mall: Retail-Antiques-Collectibles-Miscellaneous. 18 dealers under one roof. Call (903) 665-8852.
Jefferson Flea Market: 1st and 3rd Weekend of every month.
Jefferson Fudge Store: We offer a wide variety of homemade fudge, candies, jellies, jams and preserves. In addition we have a wide selection of gifts, collectibles and antiques. Call (903) 665-3562
Jefferson General Store: Authentic General Store with Soda Fountain, old time toys and gifts. Fresh made pralines & candy counter. Texas souvenirs. Famous Moody Dogs. Call (903) 665-8481.
The Jefferson Outpost: Antiques, collectibles, and gift shop. Includes a cafe, ice cream, fudge, chocolates, and a coffee shop.
Made in the Shade: Boutique, Unique Fashions, Jewelry, Home Decor, Custom Lighting, Lamp Repair & Parts.
My Mother's Florist & Gifts @ My Father's Garden: Landscaping/Maintenance, Plants, Florist, Gifts
Old Mill Antiques: 20,000 sf of Fine Antiques and Collectibles
The Old Vault: Antiques and collectibles
River City Bazaar & Flea Market: Women's Clothing, Home Decor, Accessories
River Rose: Collectibles, Home Goods, Clothing, Jewelry
Ron Atwood Gallery: Local artist, artwork and collectibles.
Texas Treasure: Wind spinners, homemade quilts, rustic custom stars, Texas Souvenirs, College Collectibles and more. Call (903) 665-3757.
Three Rivers Antiques and Collectibles: 10,000 square feet of antique furniture, pottery, books, depression glass, old tools, railroad lanterns, and signs.
Walnut Street Market: Antiques and Collectibles, including a large assortment of old doors and windows.
Willow Tree Boutique: Women's boutique with women's attire, accessories and jewelry.
Yesteryear Nick Nacks: Gifts, collectibles, Christmas all year. Trendy clothes and shoes for ladies. New jewelry. Call (903) 720-8692.
Only 20 minutes from Jefferson is a place unlike any other place in Texas. Caddo Lake is home to gators, wetland birds, beavers, turtles, and many other critters. A recreation paradise, you could spend hours winding your way through the islands of trees by kayak or canoe. If you want to hear some history, sit back and enjoy a guided tour of the boat channels on a wood burning steamboat, and after a long day of playing, sit back and sip a cool beverage on the patio of one of the restaurants that line the river.
To help you plan out your Caddo Lake adventure, here is a list of different tours and activities on this natural wetland.
Captain Ron's Swamp Tours: Pontoon Boat tour of Caddo Lake. Seats up to 16 people, covered. Tour lasts approximately 1 hour 10 minutes. Reservations Recommended. Call (903) 679-3020. www.captronswamptours.com
Caddo Lake State Park: Caddo Lake State Park has been described as the Crown Jewel of the Texas Parks and Wildlife system. This is the best place to rent and launch kayaks and canoes. In addition to the kayaking and canoeing, you can enjoy fishing, swimming, picnicking, hiking and nature studies. Park is open 7 days a week.
Paddling Trails: Ten paddling trails are open on both the Big Cypress Bayou and Caddo Lake. All trails are designed to be day trips and are clearly marked with trail markers.
Big Cypress Tours: Your guide, Michael Landrum, takes you on an experience you will never forget. This is an engaging tour of the beautiful and mysterious Caddo Lake. Call (903) 570-3319.
Caddo Lake Bayou Tours: Your guide, Rich McFarland, takes you on a wonderful tour of Caddo Lake, which covers approximately 26,000 acres of Bald Cypress Trees, Spanish Moss and abundant wildlife. Call (903) 570-2169 to book your tour.
Riverbend Outfitters: Kayak and Canoe Tours and Rentals with Delivery and Shuttle Service. Call (903) 625-9100 for information and to reserve.
Billy Carter's Go-Devil Adventure Tours: Includes Guided fishing trips and Pontoon Boat Tours. Call (903) 407-7368 for information and to reserve.
Ole Jigger Adventures: Pontoon Boat Tour of Caddo Lake. Call (903) 930-6778, or www.olejiggercaddolakeadventures.com to book.
Uncertain General Store and Gifts: You know that a restaurant that serves entrees such as "Sweep the Swamp" pizza has to be serving up some serious swamp food. Call (888) 325-5459.